Dobby & Winky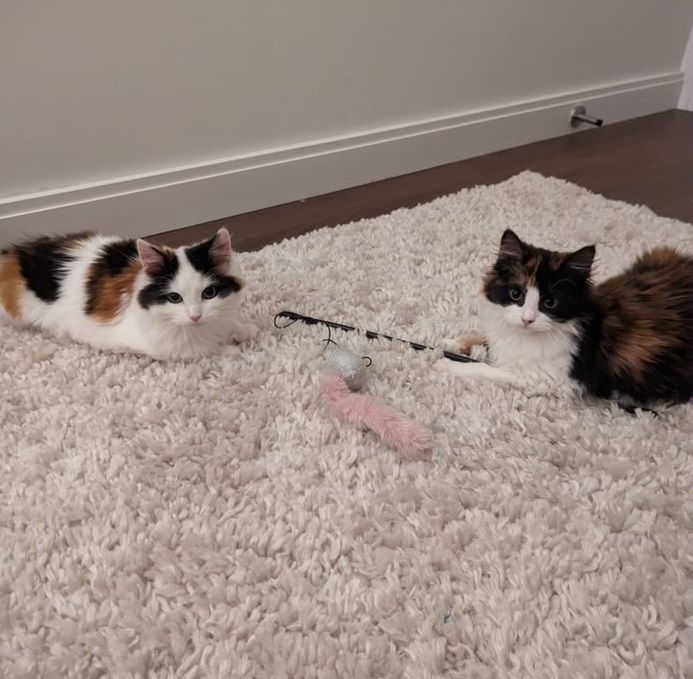 Dobby & Winky
These adorable sisters are ready to bring love and snuggles into their fur-ever hooman's home.
Dobby arrived as the least confident and smallest of her litter, but looking at her now you wouldn't know it.  She has a top-notch personality, and you'll find her sleeping in the most hilarious of positions. She loves rubs, snuggling up under the blanket with you. She found her teeny tiny voice recently and meows when she's ready for food. She is the best mix of playful kitten and calm snuggler.
Both kittens are very affectionate and love exploring, though Winky is the more adventuresome of the duo. She is playful with both humans and other cats. Winky is incredibly curious – she loves to watch humans cook! She is confident, and when she uses her voice, it is clear and strong. We expect both Dobby and Winky will do well with children. If these snuggly sisters seem like the dream team for you, complete an application to learn more. 
The Purr-fect Forever Home 
Child-friendly 
Needs a kitty friend 
Indoor  / outdoor 
 Apply to adopt via this link: https://cutt.ly/qUBgpt9 
Back to Rehoming Cats