Eddie & Logan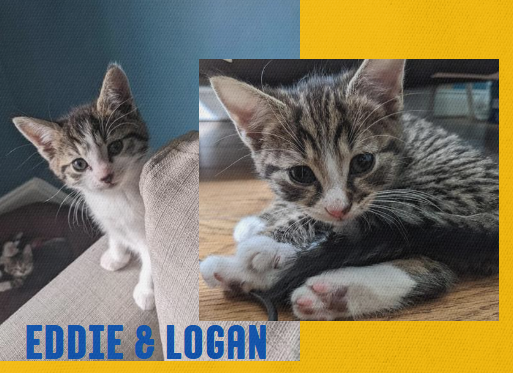 Eddie & Logan
Eddie is endlessly curious and the first to investigate something new, while Logan is the adventurous one, always climbing and exploring.
When he's not exploring, you can find Logan cuddling with his foster mom, his siblings, or snoozing on top of the scratching post. If Logan's found a lap on which to snuggle, Eddie won't be far behind.
These playful, friendly kittens are never far from one another, so will need to be homed together. We believe they'd be happy either as fully indoor cats or a mix of indoor / outdoor. They love their dry and wet food (wet is their favorite!) and are fully litterbox trained. If you're looking for a dynamic duo, look no further than Eddie and Logan. Submit an application on our site to learn more.
The Purr-fect Forever Home
Child-friendly
Bonded Pair
Indoor / indoor & outdoor
Back to Rehoming Cats