Frankie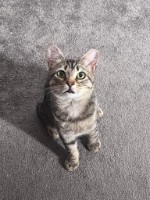 Frankie
Meet Frankie, the leader of the "Cat Pack" and Ol' Green Eyes.
This handsome, 1-year-old fella is a bit on the shy side, but really comes into his own around other cats, so we think a home with a cat buddy would be just the gig he's looking for. He can be a bit shy around humans, but all that slides away when there's food involved, so that shyness might just be part of his act.
We haven't noticed if he's a crooner yet, but we're convinced he'll make his forever hoomans swoon for him.  If Frankie seems like he'd complete your pack, submit an application to learn more.  
The Purr-fect Forever Home 
Needs a kitty friend 
Indoor only 
 Apply to adopt via this link: https://cutt.ly/qUBgpt9 
Back to Rehoming Cats