Peach & Clementine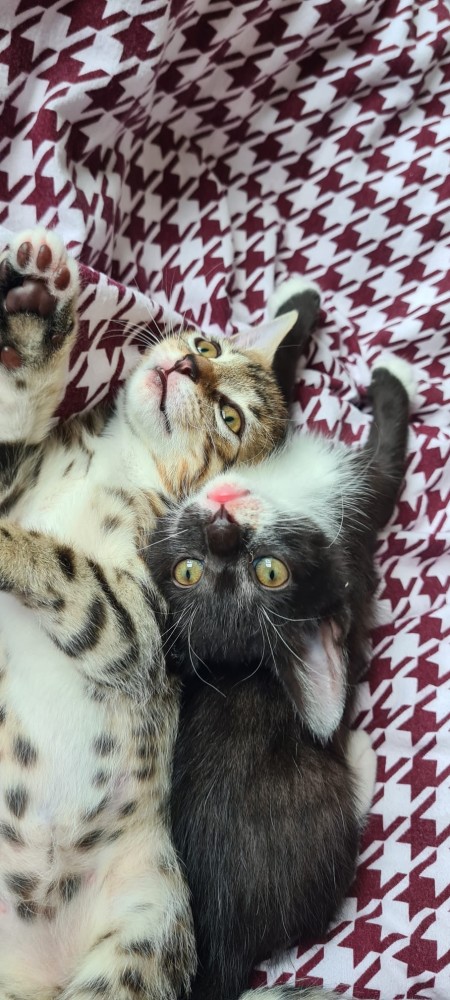 Peach & Clementine
These two are the most wibbly-wobbly belles of the ball!! At nearly three months old, these beautiful girls were born with mild to moderate Cerebellar Hypoplasia (CH) or the technical name – Wobbly Cat Syndrome!
Peach (tabby girl) & Clementine (black & white girl) are the most affectionate and friendliest kittens. They both love to play and are a pair of adorable purring machines. They love sitting on their foster mum's lap for snuggles. Peach loves being carried around and would cuddle non-stop if she could. Clementine is a bit more high-energy then her sister but will snuggle up once she has run out of steam.
Peach & Clementine will fall over a lot but they are growing, learning and getting stronger everyday. These cutie pies can eat independently but haven't quite figured out water yet so they dine on mainly wet food.
Peach & Clementine are wonderful company for each other and sleep together the whole night through. They are a delightful pair of wobbly sweethearts. They have a tonne of love to give and will bring joy to the right home where they can flourish and thrive.
A little bit of information on CH in case you feel nervous about adopting a kitty with a disability. Kitties with CH are in no pain, they have no behavioural issues or health problems as a result of the CH and will not need to go to the vet more often than the average cat. Kitties with CH live the same length of time as cats that are not affected. Their condition will not get worse and making small modifications can help them with eating and playing so they can live fun and full lives.
The Purr-fect Forever Home :
Older-child friendly
Indoor only
Needs a stay-at-home human
Special needs kitty
Back to Rehoming Cats