Percy & Cassie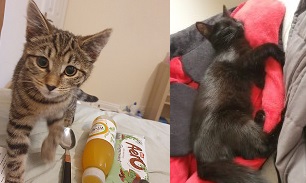 Percy & Cassie
These two have a LOT to say to each other – if only we knew what! Are they chatting about their shared love of chicken based food? Or are they arguing about which toy is better, the fishing rod (Cassie's opinion) or the little stuffed toy Percy carries everywhere? Maybe Percy once even explained to Cassie why he likes putting his toy into the water bowl – we're so curious! And that's not Percy's only quirk: he also likes drinking from his fosterer's shower, or stealing her chicken sandwiches. 
Percy is a simple man and doesn't need much – a bit of sunshine to bathe in, and a good fly to chase will make his day. He was born with an underdeveloped oesophagus, but doesn't ask for much. All he needs is a food bowl that is a bit raised, mixing his wet food with hot water once a day to make it easier to swallow, and a break of about 30 min after his meal before he can join in the cuddles again. He loves his food and will eat a lot – while staring at the ceiling the whole time. This affectionate little oddball will repay you tenfold with endless cuddles, love and playtime. Once he has found his spot on your lap, he will be hard to move. Much to the dismay of his sister who will start calling for him loudly if she can't find him. Just as easy to decipher are her meows when she sits next to you and you don't give her the attention she thinks she more than deserves. As to what else the two are talking about – it's for them to know and for you to find out! 
Percy has previously been unsuccessfully adopted into a home with a dog who he doesn't get along with. He and Cassie are both friendly with other cats and wouldn't mind joining an existing cat club but don't need to. Because of Percy's slight disability, they need to stay indoors and are best suited to a home with no young kids in it. 
The Purr-fect Forever Home 
Adult only 
Indoor only 
Special needs kitty 
Apply to adopt these 2 sweet furbabies here.
The CDPA adoption fee covers vet costs for vaccines, microchipping, spaying/neutering, spot on treatment, and worming treatment while in our foster care. 
Back to Rehoming Cats