Pluto & Jupiter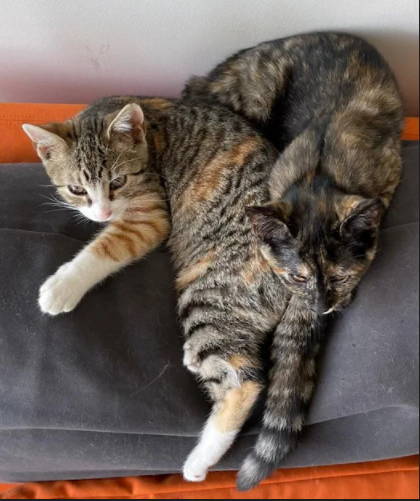 Pluto & Jupiter
(3… 2…. 1….) CosmoKitties Pluto and Jupiter are ready for a landing on your hearts! The pair was initially found when they were just weeks old , alone in a cold, unfriendly planet called "The Streets". Since being rescued, the pair has become acclimatized to Planet Terra and its funny two-legged inhabitants, and have been reported as being "friendly" and "loving wet food". Now, after weeks of anticipation, the two out-of-this-world explorers are ready  for their final mission. Codename: Forever Home.
Pluto and Jupiter  are still a little shy around humans, but enjoy following their fosterer around the house, and are sure to develop even further with a bit of love and attention. They are a bonded pair, so they want to be adopted together. They love to play, and will play with anything within reach, from string to cuddly toys to even (moon) rocks.
The CDPA adoption fee covers vet costs for vaccines, microchipping, spaying/neutering, spot on treatment, and worming treatment while in our foster care.
The Purr-fect Forever Home
Apply to adopt these 2 girls here.
Back to Rehoming Cats