Ruby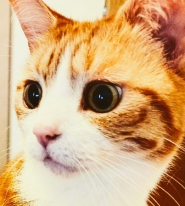 Ruby
Ruby is an independent older miss with a great thirst for knowledge. She loves to explore the outdoors and her surroundings, she's an adventurer at heart. She likes to petted too, but is not overly into attention.
Ruby would be the perfect cat for someone who's looking for a casual room mate who's a bit of fun and has lots of space for her to call her kingdom. Is that you?
NOTE: Ruby is not in CDPA's care!
The Purr-fect Forever Home
 Indoor / outdoor
Back to Rehoming Cats