Wispa & Chomp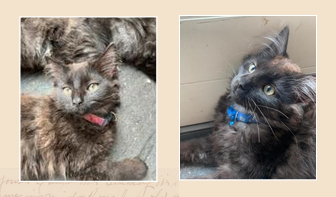 Wispa & Chomp
What's better than one piece of chocolate? Two, of course! Meet Wispa and Chomp… 
Applications open: here.
The delightful, three-month-old bro and sis duo are endless balls of chocolaty brown fur and piercing green eyes who need your love! 
Wispa is the lady socialite of the pair. This little gal loves furry and human company like any fashionable kitty society member does. She's world-renowned for her bunny kicks and is the current home champ at feather chasing. Wispa also loves cuddling and snuggling on the couch with her humans and roomies. 
Chomp is the boy kitty in this delectable duo. This young gentleman is a go-getter, and his vibrant, playful nature brightens every home. He's the most confident of the pair and isn't shy to show off his ninja-like playing skills. Chomp is also a purring machine when he's cuddling on your lap or snuggling with sis. 
Both Wispa and Chomp will happily pose for the camera for some delicious wet food! 
The chocolatey duo is initially a bit shy but will open up and share her love as soon as they settle in. In fact, they're growing in confidence every day at the fosterer. 
Give Wispa and Chomp a call now! 
The Purr-fect Forever Home 
Older Children friendly 
Indoor  
The CDPA adoption fee covers vet costs for vaccines, microchipping, spaying/neutering, spot on treatment, and worming treatment while in our foster care. 
Back to Rehoming Cats