Slug alex
Alex (female) is a soft and gentle sweetheart. She loves cuddles, especially belly rubs and adores people. She is looking for a home ready for an energetic, playful and friendly cat. Alex loves her food and has a good appetite. She is great at using her litter tray. Alex loves to play on her cat tree before she gets tired and snuggles up to go asleep. During the day Alex also likes to play with her cat toys and chase her two brothers around. Alex is a sweet loving girl looking for her forever home with a resident kitty.
The Purr-fect Forever Home
* Child-friendly
* Indoor only
* Needs a Kitty Friend
You can apply to adopt Alex here.
Slug annie-pepper
Annie and Pepper were found together under some shrubs when they were just little kittens, all alone in the world except for each other. Luckily for them, a kind neighborhood lady heard their hungry meows and called CDPA. Under CDPA's care, the two sisters have been able to thrive and their personalities are starting to shine through.
Nowadays, the two sisters are absolutely inseparable and are looking for a home that will take them as a pair. Although they may look very much alike, their personalities couldn't be more different! ewng her surroundings and learning about new things. She dreams of one day becoming an explorer or adventurer like Marco Polo or Amelia Earheart, but for now she's happy just exploring kitchen counters and window sills. Annie can usually be found trailing after her sister, but, unlike Pepper, she is afraid of heights and sticks to adventures at a floor level.
The pair is very affectionate (in their own terms!), and love cuddles and snuggles with each other as well as with humans they trust. As the scaredy cat of the two, Annie may be a little shy at first, but with a little patience, chin rubs, and coaching from Pepper, she will be feeling at home in no time.
The Purr-fect Forever Home
Describe the perfect home for the kitty
Indoor
Adult-only home
Part of a bonded pair
You can apply to adopt here.
Slug jack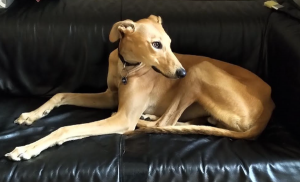 Jack is a male dog, he is approximately 2 yrs and 2 months old. He is a cross between a lurcher and saluki.
Jack is a very very energetic dog and needs to have a good run or long walk once a day.
He is an indoor dog, he is very thin so feels the cold very easily. Also needs a coat during the colder months for walking.
Although Jack is energetic he also loves lazing around between walks!
He's very affectionate and needs to be around people. He is good with children but he gets VERY excited when visitors come to the house and is inclined to jump up on people, so he would not be suited around young children. He's never aggressive.
Jack is fully vaccinated, next due in August and is Neutered and micro chipped.
He loves company and would be good with other dogs.
Please fill out the form if you are interested in Jack here
Slug arthur
Little Arthur is the King of his litter, and as such leads the way for his siblings by following his foster mummy everywhere. He is a fearless black (and white) Knight when it comes to the sweeping brush, but we are sure he is secretly just helping his foster mummy clean up! Like any King he is adventurous and but would love to have a resident cat as his kitty accomplice. Arthur plays well with children so would be very happy in a home with young kids. We suspect it wouldn't be long before he ruled that indoor Kingdom too!
The Purr-fect Forever Home
Young Child-friendly
Needs a kitty friend
Indoor only
You can apply to adopt any of our kittens here.
Slug britney-shelly
Britney and Shelly are sisters and are the best of friends! Shelly is very gentle but still loves to tumble around the place with her sister! She is very sweet and kind. Shelly loves to be petted and to get lots of cuddles.
Britney is a little more independent but she will come to you for some snuggles! She comes asking you to cuddle her but in her own time as she is a little more shy. She loves playing with her sister and is very kind as well. This pair are inseparable and are lots of fun!
The Purr-fect Forever Home
Child-friendly (Over 12)
Indoor only
Apply for adoption here.
Slug eve
On New Year's Eve last year, on the countdown to the end of what was a tough year, CDPA found one of our toughest kitties —when we found her, she was pregnant, trapped, and almost feral after having lived in a colony for her short life. But she was found on one of the most hopeful nights of the year, so naturally we made it her namesake and called her Eve.
In foster care, despite Eve's shyness, she has begun to come into her own, developing a gentle, playful nature, which is why she'd be so well suited to a household with kids aged 10 or over. But her life is still not easy, having been diagnosed with FIP in foster care. Despite her illness, Eve is our little warrior. She even likes to pretend she's a little jedi, chasing the laser pointer her foster mom uses to pretend she's in a Star Wars movie. As strong as she is, she's also a real softy, once you don't pick her up that is. It'll only take a few head nuzzles or evenings spent brushing her hair (she loves it!) before you fall in love with this girl.
Are you able to give Eve a loving and patient home?
The Purr-fect Forever Home
* Adult only
* Indoor only
* Prefers to be a solo ruler (i.e. not suitable for home with other cats)
* Needs a patient-human
* Special needs kitty
You can apply to adopt Eve here.
Slug fred-weasley
Introducing Fred Weasley, a wonderfully cuddly, sweet and adorable kitten! Fred LOVES attention but sometimes all he wants is to sleep! When he is not dosing in his foster's lap he is super active and loves getting into plenty of mischief with his siblings.
Fred's magical abilities help him turn everything into a toy, whether it be a ball, a piece of paper on the floor or something hanging from the sky. His adopter will have lots of fun watching him transform everything into a game!
Fred would do super well in a home with another kitty friend to join him in his wizardry adventures!
The Purr-fect Forever Home
Child-friendly
Needs a kitty friend
Indoor only
You can apply to adopt here.
Slug harley-selina
CDPA is proud to present two super-kitties: Harley Quinn and Selena Kyle (better known as Catwoman!) Like most supers, they have an origin story, as they were rescued when they were just helpless kittens, hungry, alone, and without a momma.
Out of the two, Harley is a bold vigilante and Silena is her timid sidekick! Due to their tough upbringing, these heroes are still a little shy around humans, but enjoy pets and cuddles (in moderation!) and are sure to let loose with some patience and much needed love. They are very energetic, love to play with toys and other kitties, and purr even when they aren't being petted!
Because every hero has their kryptonite, Selina's weakness is cooked chicken. Harley also loves chicken, but thinks that toys on strings are even better. While CDPA doesn't quite have a bat-signal for them, they both drop everything at the sight of a laser pointer!
The Purr-fect Forever Home
You can apply to adopt here.
Slug lily-eddie
Little Lily and Eddie are quiet kittens….or so their foster mummy thought until Eddie woke her up one morning walking over the top of her! He is certainly getting braver and with his sister by his side we are sure they will soon learn to make their presence even more felt! These black and white bundles of cuteness would really make a family complete, especially if there were young children to help show them the way.
The Purr-fect Forever Home
Young Child-friendly
Indoor only
Apply to adopt any of our wonderful kittens or cats here.
Slug luna-lovegood-george-weasley
Introducing the Harry Potter kitten crew ready to be sorted into the purr-fect forever house! Luna Lovegood and George Weasley are best friends and siblings!
George Weasley (male) is very gentle and cuddly, but you will have to earn his affection and only likes certain types of petting. He is very playful and will never say no to food (he is the biggest one) 🤣
Luna Lovegood (female) is wildly playful, suuuper active and also very sweet!! Loves her cuddles and if she wants to sleep, nothing will disturb her.
The duo have unique personalities but one thing that they have in common is that they LOVE to play. They love their little balls and to be honest there's nothing they don't turn into a game… if a piece of paper is on the floor, they'll play with it for hours! Any hanging toys also are a big hit!
The Purr-fect Forever Home
Child-friendly
Indoor only
You can apply to adopt here.
Slug misha
Meet Misha, a beautiful black and white kitty looking for her forever family. Misha was rescued from a cat colony where she was one of many cats doing their best to stay alive, and was found suffering from conjunctivitis and FCV. Although at first Misha was exceptionally shy and terrified of humans, with time, patience, and CDPA's help she has blossomed from a sick, scared, and scraggly ball of fur, to a beautiful cat who loves to play and cuddle with her humans! She is now 100% healthy, vaccinated, and microchipped, and promises to be great company for any human who is looking for a kitty to curl up with while binging Netflix.
Misha is happiest amongst other cats she can cuddle and play with, and her ideal home has at least one other kitty.
The Purr-fect Forever Home
Adult only
Needs a kitty friend
Indoor only
Needs a patient-human
You can apply to adopt Misha here.
Slug pitch-truffle
Pitch & Truffle are a male and female bonded pair. They are looking for their forever home after being socialised in foster care.
If you'd like to apply to adopt these 2 beautiful kittens, you can apply here. The adoption fee includes 2 vaccinations, neutering, microchips, de-worming, etc.
Slug ras-al-ghul
This gorgeous little kitty is Ras al Ghul. He was rescued from an industrial estate in Dublin so he had a tough start in life but now he is thriving! He is super friendly and loves making friends with everyone. He loves his foster brother and sister so would need a home with another kitty so he can play and have fun. This little guy is looking for lots of love and care and he would be an amazing addition to any family.
The Purr-fect Forever Home
Child-friendly
Needs a kitty friend
Indoor only
You can apply to adopt here.
Slug snorlax-miso
Miso (Male – white nose) is the smallest of his siblings. Miso is a super cute little guy and once he gets comfortable in your arms loves a little face massage. Miso can be a little shy at first but loves to play with his brother and sister. You will usually find Miso sneaking up on his brother and sister poking them and playing with their tails.
Snorlax (male – black nose) Snorlax is a fun, loving and energetic boy. He loves his food and is very good at using his litter tray. If Snorlax is not playing with his brother and sister you will find him with the paws up relaxing or in a deep sleep. Snorlax is very affectionate and loves getting petted and belly rubs. Snorlax is getting bigger and bigger everyday however he still thinks he is a small kitty. Snorlax cannot wait to meet his new human friends.
The Purr-fect Forever Home
* Child-friendly
* Indoor only
You can apply to adopt these 2 kittens here.
Slug sushi

Meoooow. I mean… Roar!
My name is Sushi, I'm a 1 year old male cat, and I want to be the mighty king of your jungle (okay, a garden, farm, or field will do for now). Although I have a wild side that needs a big open space with plenty of freedom to roam, I promise I'm a gentle boy and that my heart is as soft and fluffy as my coat.
My biggest claim to fame is that some people say that I look like Simba from the Lion King. One day, I'd even love to play Simba in a live action Lion King movie, but for now, running wild in a spacious garden with food, shelter, and the care of a lovely human like you will make me one happy Ron Weasley lookalike.
Although I'm a really independent boy, I need a supportive human who is willing to be an understanding leader of the pack, the Timon to my Pumbaa, the one who knows that if you love something, you've got to set it free (preferably a cute ginger kitty in a garden with somewhere warm and cosy to sleep with plenty of food, right?).
All I want is to have Hakuna Matata —spoiler: that means no worries, for the rest of my days. So if you think I could fit into your circle of life, or if you feel the love tonight for this little 'jungle' king, I can't wait to meet you.

I am neutered, vaccinated, and microchipped.
The Purr-fect Forever Home
Likes to be around other kitties
Outdoor with shelter (Garden or Farm)
Needs a patient-human
If you can offer Sushi a forever home, you can apply
here
.